Topspin Volleyball - Outdoor
Submitted by topspinvolleyball on Fri, 06/27/2014 - 01:28 •

Updated on Fri, 04/24/2020 - 21:44
West Coast College of Massage Therapy is offering our players a special rate for Student Intern Massage Therapy Appointments. Need a massage? 
CLICK HERE for the Referral Form.
---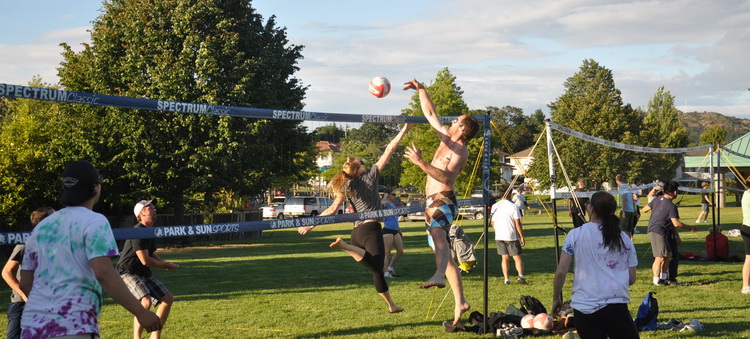 Topspin's Outdoor Volleyball League 2020
With the restrictions in place by the government and in abundance of concern for our players, we are suspending league until such a time that public gatherings are approved. If you are wanting to sign up, email us and we will keep you posted.
We hope you are staying safe and healthy during these times. 
Topspin offers outdoor volleyball leagues (two sessions) starting in May going through to August.
 
When? Tuesday nights; 6:30 pm - 8:30 pm (or when it's dark)
Spring Dates: COVID-19 CANCELLATION MOST LIKELY
Summer Dates: July 7th - August 25th
Where? Beckwith Park
Format? Co-ed 3s/4s. Sign up as a team of 3 or as a team of 4. Will one extra player make the difference? (1 female player must be on the court at all times during play)
How Much? 
Co-ed 3s: $180/team 
Co-ed 4s: $240/team
Single players: $60
Don't Have a Full Team? If you don't have enough players to form a team, let us know and we can see if there are other players that we can connect you with. It's a great way to meet other volleyball players in Victoria!
If you have any questions or would like to register for an Outdoor League, please CONTACT US.
Outdoor Rules:
• No setting the serves, your hands must be touching together or overlapped.

• Players can set free-balls

• 

Players cannot set the ball over the net or to opponents.




• 

Jump serves allowed.




• 

Serve anywhere behind the baseline.




• 

No open hand tips, either ball goes off knuckle or roll shot.




• 

Net serves are in play.




• 

Play ball with any part of body.

• 

First contact coming over to your side may hit you multiple times if one motion (eg. ball boucing off your arms and then your face).

• 

Block doesn't count as first contact.

• 

May go under the net as long as you don't make contact with opponent or interfere with play.

• 

Please call your own net fouls. No touching any part of the net.

• 

If you step foot in an adjacent court before touching the ball, the play is dead/automatic side-out.

• 

Anyone can hit from anywhere, there's no rotation on court except you must follow same serving sequence.

• 

If there's a tie in score when whistle is blown, team that won the point can decide to serve or receive for next point.

• 

Decide before the game starts if you would like to switch sides every 10 pts or every game due to sun/wind.

• 

Winners mark scores down, no scores marked = no points. 2 points full game 1 point partial game. Games that add up to 7 points will make a partial game. When there are substitute teams filling in, their games do not count. Overall winning team moves up and losing team moves down a division.

• 

Games to 21 (cap 21).

• 

Guys are allowed to block girls.

• 

Must have at least 1 girl on the court at all times during play.

• 

If your team can't make it to play, call Fuji ASAP or you'll get dropped a pool and your team will keep current spot.

• 

Players can play any position. 
CLICK HERE for the Registration Form
IMPORTANT!!
All players participating in our leagues must sign a waiver. Players under the age of 18 years must have the waiver signed by a parent/guardian.
CLICK HERE for the Waiver Form