Kloverpoint for Small Business
Our Small Business Solution  
 
"A recent survey by 1&1 Internet reported that up to 40% of small-to-medium sized businesses still don't have a website."    Hubspot, October 2011.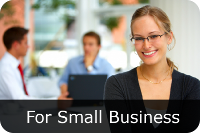 Every small business owner knows that the success and survival of his/her business relies heavily on clients and customers, and the awareness of their products or services in the marketplace. A common question asked amongst small business owners is "how do we increase our customers base and how do we improve the awareness of our business?" In today's digital world, there are numerous ways to increase your product/service awareness... some costly, some not as costly. How can a small business owner achieve its marketing goals without digging too deep into the wallet?
Introducing Kloverpoint...
The team at Kloverpoint has put together the tools for an all-in-one solution to increase productivity and help small business owners achieve their marketing goals and objectives effectively and efficiently. Many small business owners simply don't have the time or knowledge to create their own web site. Others have limited budgets on having professional websites created for them. Some business owners don't even know where to start when it comes to Social Networking.
Let us help you build your Social Site!
Here are some of the great tools and features of Kloverpoint as a business solution:
► Content Publishing - You come up with the content, we help you publish it. Our easy to use text editor allows you to customize and format your content the way you want it.
► Create Webpages - Kloverpoint's Webpage creation tool allows you to quickly and easily create webpages to promote your business. If you're a newbie with no knowledge of html or how to even create and publish a webpage, Kloverpoint can help you get webpages up and running in no time. For those more advanced users, custom html code can also be used with Kloverpoint.
► Add Another Revenue Stream. Acquire New Customers - Advertising and marketing your business by publishing content on Kloverpoint means that your business will be more visible on the Internet and on various search engines. Insert your own ads for other products and services that you offer. Increase awareness and strengthen your brand recognition. Generate additional revenue and acquire new customers.
► Remote File Access - Are you constantly on the go? Need access to certain files? Upload your files to Kloverpoint and access them anytime, anywhere.
► Social Networking - Looking to stay connected with your clients and customers? Kloverpoint's social networking tools allow you to post Quick Updates and communicate directly with your customers.
► Advanced Privacy & Multiple Relationship types - Control who can and cannot access your published content and photo galleries.
► Photo Galleries - Post photos and provide descriptions of the products that you offer.
► Integration with Twitter - Post announcements regarding any content that you have created and published on Kloverpoint to your Twitter account. You can also pull your "tweets" and display them in your Kloverpoint account.
► Communication Tools - Stay connected with your customers and clients through Kloverpoint Email and Kloverpoint Chat.
Sign up for your Free Kloverpoint Account. Upgrade for the tools that meet your business needs.

For a complete list of the features and functionality of Kloverpoint, CLICK HERE.
If you have any questions on how Kloverpoint can help your small business, please CONTACT US.